Tribunal Audio Transcription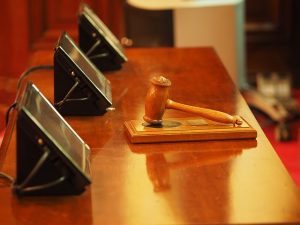 Tribunal Recording Transcripts
Nowhere in the legal system is it more important to achieve clarity in the written word then in when it comes to accurately and completely showing the full court record of any legal proceeding. Tribunals are no exception. That's why Legal Typing is proud to offer our tribunal typing services, allowing you to take audio transcriptions of the proceedings and easily yet professionally have them converted to the written form.
What is the UK tribunal system?
The tribunal system, of course, is part of the U.K's nation-wide system of administrative justice. They exist to provide access to a formal infrastructure for dispute resolution. This makes them similar to, but outside of, the formal courts of law. Their rules and procedures are different too, which is why using knowledgeable and experienced legal transcriptionists for your tribunal typing needs is an absolute must.
Tribunals were developed as a separate system in order to better handle specific forms of dispute. The idea was that this would make it cheaper to run, and that less formally qualified officials could adjudicate. When a decision made in a tribunal is appealed, it will automatically kick the case over into the conventional legal system, requiring journeys through the courts, and those who undertake processes at the tribunal are able to access both the Appeals Court and Supreme Court, making a written record of the proceedings essential.
Why do I need tribunal typing services?
It's possible for clients to self-represent at tribunals, but also possible, of course, for clients needing tribunal arbitration to use busy legal professionals like you to represent them. This is why the judiciary keeps a careful eye on proceedings in tribunals- and where Legal Typing will help you help your client, by taking the burden of administration off your shoulders through our tribunal typing services. Since 2007 the tribunal system has been overhauled and reformed to make it a more formal and unified environment, so it's more critical than ever that your paper trail is in the best shape possible.
Whether your case will be entering the employment tribunal system, you have an issue which the Office of Fair Trading needs to assist with resolving, there is a need to approach the Company Names Tribunal, or your client wishes to put themselves in front of the Planning Inspectorate or Gender Recognition Panel, Legal Typing can assist with swift and accurate tribunal typing services that will keep all your admin up-to-date and flowing without a hitch.
How are tribunals different from the court?
While tribunals are similar to dispute resolution and mediation services, the tribunal can also address areas where both parties will not voluntarily enter into the matter. Tribunals can issue binding resolutions, and do possess the ability to funnel appeals into the formal court system. The Upper Tribunal is also a formal Court of Record. Tribunal judgments can even carry the right to a warrant of execution, and judgments can appear on the Register of Judgments, Orders and Fines. As with all legal proceedings, your client has the right to a fair hearing, concurrent with the duty to give reasonable decisions which are rational under U.K law, and the right for the proceedings to be unbiased at all times. This makes it more important than ever to ensure the whole process is formalised and correctly handled for your client the same way you would a case which is defaulted to the 'normal' legal system.
Are you in need of swift, accurate tribunal typing services with a quick turnaround time? How does error-free legal audio transcription sound? The Legal Typing team have years of experience and a true passion for the job, so why not get in touch with us to discuss all your tribunal typing needs today?
Legal Digital Dictation
Our knowledge of legal terminology and the required layout to include your references and contact details means we can offer you a personal legal secretarial service at a fraction of the cost of an in-house secretary.  All our typists are required to sign Confidentiality Agreements and our SSL encrypted portal means that your dictation and the returned documentation is all highly secure and safe.
We're here to help answer your questions. User our secure form, alternatively call us on +44 (0) 7967 078 317 or email on [email protected]
We're here to help answer your questions. User our secure form, alternatively call us on +44 (0) 7967 078 317 or email on [email protected]