Legal Correspondence Digital Transcription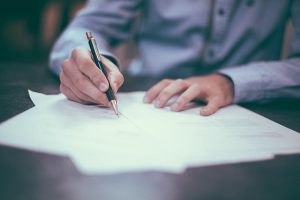 Legal Correspondence Digital Transcription
Are you in need of assistance managing the volume of legal correspondence that crosses your desk every day? Look no further than the skilled team of legal typists at Legal Typing.
How can Legal Typing assist with my legal correspondence needs?
The typing team here at Legal Typing all have experience handling copious areas of the law, so when it comes to professional typing services for legal correspondence, the typist you need is just waiting to assist you.
We're well aware of the daily 'grind' involved in running a legal practice. It's not all the flashy big cases the general public associated with the profession. Varying forms of legal correspondences are the bread-and-butter tasks that help you work efficiently. From all the tiny back-and-forth correspondances that are needed for larger matters, to the once-off letters needed by your clients to assist with matters of daily life, you need it all done timeously. We can help!
What kinds of legal correspondence does Legal Typing assist with?
Perhaps the key question is really- what kind of legal correspondence do you need us to help you with?
Our experienced team are able to assist with any form of legal typing you need. Be it daily legal correspondence, inter-firm communication, file notes official letters, or the 'lawyer's letters' your client needs to help with a matter, we'll help you help them. Don't worry that you will receive an ill-formatted document that doesn't live up to your reputation. With decades of experience behind us, we know how important it is that all details are correctly captured on your legal correspondence. From address to reference and beyond, everything will be picture perfect.
I need my legal correspondence to match my firm's brand
We also understand that, due to the volume of legal correspondence that crosses your desk, the need for a brand identity and uniformity is paramount. After all, many of these same letters and correspondences will be used by your end-client to assist on important matters. If every batch of legal typing you outsource comes back looking different from the firm's normal, it will lead to delays, hassles and questions of integrity. Let alone if it is of a poor standard, of course!
You will never face this hitch with Legal Typing. Through our customer portal, you can upload templates, letterheads, formats, instructions and anything else you need to communicate to your assigned typist. This ensures smooth outsourcing of your legal correspondence, without risking any of the hard-earned reputation you've created. Each document will be carefully formatted to your instructions, and uphold the proud name your legal firm has established. Once your legal typist has your instructions and your audio files, she will meticulously create the legal correspondence you need. You will have the opportunity to view the work through the portal, too.
Here at Legal Typing, we don't just type- we seek to provide a full-service offering for our clients. Our work will always feel as though it's been handed to someone working right in your office, not an internet stranger. No matter what assistance you need with your legal correspondence tasks, we're here to help. If you've never worked with Legal Typing before, why not try out our ½ price trial today? Take some of the burden of your daily legal correspondence off of your shoulders, and let us help you put your best face forward.
Legal Digital Dictation
Our knowledge of legal terminology and the required layout to include your references and contact details means we can offer you a personal legal secretarial service at a fraction of the cost of an in-house secretary.  All our typists are required to sign Confidentiality Agreements and our SSL encrypted portal means that your dictation and the returned documentation is all highly secure and safe.
We're here to help answer your questions. User our secure form, alternatively call us on +44 (0) 7967 078 317 or email on [email protected]
We're here to help answer your questions. User our secure form, alternatively call us on +44 (0) 7967 078 317 or email on [email protected]