Instruction to Counsel Typing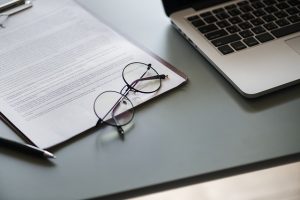 Instructions to Counsel Template
Are you looking for an instruction to counsel template, or to further your understanding of the need for the brief to counsel? Legal Typing are here with all the information you could need- and the fast, accurate transcription service to help you ensure your matter is a best received by the courts as possible.
What is the instructions to counsel?
The instructions to counsel are both the set of instructions and the authority provided to counsel by the solicitor.
Why would I need an instructions to counsel template?
There are certain key considerations which must be included in the brief, which is why many people choose to use an instructions to counsel template, or to allow a service which has all the necessary information and knowledge to correctly formulate the document [such as Legal Typing]. As the instructing solicitor, it is critical that mistakes are not made, or else your client's case will suffer.
The barrister selected should ideally specialise in the area of law the client requires and, of course, be available to accept it. This could include for matters such as giving advice, appearing at the trial, or settling pleadings. Should you be briefing regarding advice, the instructing solicitor would be required to formulate questions for the receiving barrister to consider, as well as soliciting advice regarding relevant matters from them.
This means the instructions to counsel template you use needs to include all possible relevant facts so that the receiving party can understand the matter. These need to be presented logically and concisely. Should they be being instructed to settle a plea or appear at trial, they must also be made aware of all evidence supporting the claim and how it can be verified. Relevant case law needs to be drawn on, especially in unusual points of law relevant to the matter. Any concerns about the case would also be raised, as would a summation of the issue, the state of current negotiations or the hearing date, and any need for conference with counsel.
What else might accompany the instructions to counsel?
Any other relevant documents should also be included, including document copies, any court documents issued to date, copies of correspondence relevant to the case, proof of evidence and other obtained opinions. To be looked on favourably, large briefs should be well arranged in files and tabulated. A cover will be a critical part of this, and should include a heading- typically the names of the parties and proceedings if a court matter is already in-hand, or reference to the relevant legal acts if the matter is yet to reach court. The required task from counsel, their name and fee, the solicitor's reference and date of delivery will also be included. Ensure the task requirements are clear on which party the counsel will be appearing on behalf of, which court, and the time they will be required. If the matter is urgent, this must be marked clearly.
Obviously, these documents must be delivered with sufficient time for the barrister to familiarise themselves with the matter wholly. They must be allowed enough time for research and critical thought. This is yet another reason to allow a professional service like Legal Typing to assist you with creating your instructions to counsel, as we offer not only a 24 hour turn-around, but staff with the knowledge and wherewithal to ensure it's done correctly.
It is always advised that, as the instructing party, the solicitor takes care to review the counsel's work and ensure the task is correctly performed, as well as acting on their advice where relevant. It's always good to summarise the results for the client, too, with an explanatory letter.
Ditch the instructions to counsel template you've been using, and allow Legal Typing to craft a clear, concise and clear instruction to counsel that gets the job done perfectly every time.
Legal Digital Dictation
Our knowledge of legal terminology and the required layout to include your references and contact details means we can offer you a personal legal secretarial service at a fraction of the cost of an in-house secretary.  All our typists are required to sign Confidentiality Agreements and our SSL encrypted portal means that your dictation and the returned documentation is all highly secure and safe.
QUESTIONS ABOUT INSTRUCTION TO COUNSEL TYPING?
We're here to help answer your questions. User our secure form, alternatively call us on +44 (0) 7967 078 317 or email on [email protected]
We're here to help answer your questions. User our secure form, alternatively call us on +44 (0) 7967 078 317 or email on [email protected]
We work as a single united team with market leading firms around the world and give our clients the highest quality service possible.