Court Proceeding Audio Transcription Service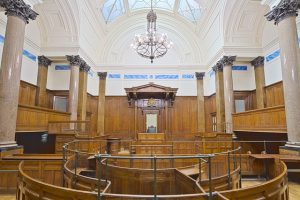 Court Proceeding Audio Typing Service
Legal Typing are proud to offer high-quality court audio typing services to fit a range of needs, all provided by our qualified and experienced transcription team.
Why do I need a court audio typing specialist?
No matter what court typing services you require, a trained ear is a must throughout the proceeding. Despite the advances of modern technology, audio can still be fuzzy or difficult to discern, and you may face a situation where several parties are speaking rapidly or where a trained ear will be needed to detect what is happening in order to accurately record the matter. In addition to which, of course, there is the matter mentioned above- the use of jargon and terms which are not part of the layman's vocabulary, and the need to record everything which transpires accurately and without error while correctly following the entirety of the court proceedings and committing them to paper in a meaningful and easily accessible format.
No matter what your court proceedings may be, or the court typing services you require, Legal Typing is proud to be able to offer you accurate court audio typing with fast turnaround times and experiences transcriptionists ensuring that everything is accurately recorded every step of the way.
Why are court reporters used?
In our modern digital age, you may wonder why court reporter typing is still used. The court reporter may seem like an afterthought in the courtroom, but they are far from it. Their unobtrusive nature is simply an essential part of the procedure. In fact, it is often illegal to continue without the court reporter in the room! For criminal charges, the government mandates when the court reporter needs to be in the room, whereas the need is managed locally for civil matters. Accurate transcripts are an essential part of the entire court system- and that's where court audio typing becomes a part of the process.
What goes into understanding a transcript?
The court transcript acts as a verbatim record of everything that transpired in the courtroom, so anyone performing court typing services is required to have a thorough understanding of courtroom proceedings, legal terms [and occasional medical terminology] and be proficient in recording information accurately and swiftly. The transcripts will not only be held as part of the official record of the court but will be referred to throughout the proceedings. Involved solicitors may request copies after the case for teaching and review of the process, as well. Should the matter reach an appeal situation, the record of court proceedings becomes even more important, providing the only 'glimpse' back into the original case that is possible for the appeals court. Appellants will frequently use the transcript, or a portion of it, in their request for an appeal, and it will play a heavy role in the decision to grant an appeal too.
Tell me, briefly, about court proceedings?
The layout for court proceedings themselves is fairly simple, even though the process may well seem overly complex to follow for the man on the street. Here in the UK, most petty crime and civil matters are heard in a local magistrate's court. Some burglary and drug offences are heard here, as well as matters like traffic fines and minor criminal damage. Sentences are typically fines, community service, prison terms under 6 months, and any required bans. 'Indictable offences' such as murder and grand larceny are heard at the Crown Court instead and sentencing is far harsher.
Once an arrest is made or a case if brought to the court, there will be an arraignment. Here the defendant appears to answer to charges and enter their plea. After this, the court date is set, and any matters such as bail are resolved. Once court proceedings are completed, there is also the possibility of appeal, where relevant to the sentence.
Legal Digital Dictation
Our knowledge of legal terminology and the required layout to include your references and contact details means we can offer you a personal legal secretarial service at a fraction of the cost of an in-house secretary.  All our typists are required to sign Confidentiality Agreements and our SSL encrypted portal means that your dictation and the returned documentation is all highly secure and safe.
We're here to help answer your questions. User our secure form, alternatively call us on +44 (0) 7967 078 317 or email on [email protected]
We're here to help answer your questions. User our secure form, alternatively call us on +44 (0) 7967 078 317 or email on [email protected]