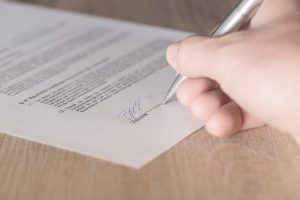 Affidavit Typing
Are you looking for help with an affidavit? We at Legal Typing provide fast, accurate transcription services from highly skilled typists with experience in the legal arena, and are available to help you with all your affidavit needs.
Why should I get typing assistance with my affidavit?
While technically any document- even a statement written on a napkin- can hold the legal status of an affidavit provided it is utterly factual and witnessed, this obviously will not do if you wish your case to be taken seriously. It is important to present the facts of the matter, without embellishment, waffle or irrelevancies, and to do so in a manner which is crisp and clear so that all relevant parties can immediately grasp the significance of the document. You will need to read back the resulting affidavit to ensure it fits with your intentions, as the legal recourse we mentioned above can be taken against you if lies are uncovered. Using a professional legal typing service such as Legal Typing provides you with one more layer to assist in guarding against unintentional inaccuracy or obfuscation, as well as helping keep the layout of the affidavit clean, clear and easily accessible. Just as using a process server can assist in ensuring a smooth legal process, so can a well-formatted, clear affidavit prepared by a professional legal service.
Let Legal Typing help you ensure the clarity and professionality of your affidavit today.
What is an affidavit?
An affidavit is a written statement used to swear to the truth of certain information. They are used by the courts, and oftentimes have a place in other civil matters too. By writing and signing the affidavit, you are swearing that the information it contains is the whole truth.
That said, it's important to note that an affidavit in the U.K doesn't necessarily only focus on hard, evidential facts. It can easily be the opinion of a person or the description of a sequence of events as they perceived it, such as within a car accident. This will need to be stated, however, and it is important that the descriptions be truthful to the facts as perceived by the person swearing the affidavit. Should it be proved that you knowingly provided false information, you can face charges of perjury or even contempt of court.
What is needed on a U.K affidavit?
There's more to the affidavit then simply writing a document, however. In many jurisdictions, an official affidavit format must be used. It can be signed immediately or signed at a later date provided a commissioner of oaths is present. The person providing the information for the affidavit, and signing it, must be mentally sound and eligible under law to sign. A guardian or carer can sometimes write the affidavit on the behalf of someone who is not of the correct age or mentally sound enough to do so themselves.
In the UK, affidavits typically have three uses: property disputes, debt arrangements and divorce proceedings. It's used to professionally bolster the credence of claims made during these processes and helps keep the process streamlined and built on firm basics. Within the legal sphere, an affidavit can also play a key role when applying for a search or freeze order, as well as when an occupying party will be required to allow someone else to enter their land. The court may on occasion require an affidavit, as can the CPR, a practice direction, and compliance with certain types of legislation [for example, the Protection from Harassment Act of 1997]. Affidavits can also be a means for you to collect evidence if applying for protective orders or any other legal situation where a large body of evidence is needed, and burden of proof will fall on you as the accusing party.
You should only consider getting an affidavit if you need to build this body of evidence, or if you have been advised by the court or your legal counsel that this is the correct step to take to carry your legal matter forward.
Legal Digital Dictation
Our knowledge of legal terminology and the required layout to include your references and contact details means we can offer you a personal legal secretarial service at a fraction of the cost of an in-house secretary.  All our typists are required to sign Confidentiality Agreements and our SSL encrypted portal means that your dictation and the returned documentation is all highly secure and safe.
We're here to help answer your questions. User our secure form, alternatively call us on +44 (0) 7967 078 317 or email on [email protected]
We're here to help answer your questions. User our secure form, alternatively call us on +44 (0) 7967 078 317 or email on [email protected]